160 George Street, Ottawa
On November 15th, 2017 there were 5 Active Condos for sale at 160 George Street on the Multiple Listings Services, (MLS®). Priced between $360,000 - $529,900.
Are you on the market for a Condo at 160 George Street?
Would you like to receive "Hot New Listings" as they enter the market place?
Simply click on the "St. George" photo below and you will be set up for FREE, with no obligations!
160 George Street, Ottawa. St. George Condos.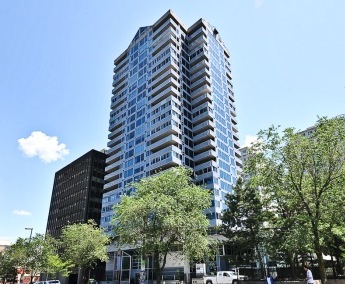 The St George at 160 George Street in Ottawa.
This classic gem in the Ottawa condominium market offers the pinnacle of refinement with enduring architecture and a grand, impressive entrance foyer. In the age of fast paced lifestyles, The St. George welcomes you with quiet elegance, charm and serenity.

Built in 1987 by Perez Construction this mature and stylish condominium offers units with spacious design, terraces, balconies and some heated indoor solarium's with a gorgeous setting in which to entertain and enjoy the best that life has to offer.

With 24 hour security concierge, your safety is guaranteed. Marvelous amenities such as an indoor pool, fully equipped exercise room, and an outdoor terrace with barbecues can allow for optimal work life balance. Whether you're an up-and-coming young professional or an executive wishing to downsize, this fabulous condo in the heart of Ottawa has it all!

Ideally located in the Ottawa Byward Market, The St. George offers fine dining at your doorsteps, and Ottawa's bustling entertainment area is within walking distance, as are essential services such as the Metro grocery store as well as the LCBO. In addition, major Ottawa attractions such as the National Arts Center, the Parliament and the Rideau Center are nearby for your enjoyment.

The St. George not only offers an ideal setting in which to live and entertain, but provides peace of mind with optimum security and elegant surroundings. Come home to St. George and experience the best of condo living.

Map of 160 George Street, Ottawa, Ontario, K1N 9M2.

160 George Street, Condominium Corporation # 375.
Condo fee's for 106 George Street include: Management, Caretaker, Recreation facilities & Building Insurance.

Condo Suite heating source: Electric baseboard and Central Air Conditioning.

Facilities include: Security/Concierge, pool, fitness centre, sauna, guest suite and lockers.

Property Management for 160 George Street is: Axia property management. 613-738-9700.