200 Rideau Street, Ottawa
Featured Listing! #303-200 Rideau Street
On July 20th, 2017 there were 10 Active Condos for sale at 200 Rideau Street on the Multiple Listings Services, (MLS®). Priced between $279,600 - $539,900.
Are you on the market for a Condo at 200 Rideau Street?
Would you like to receive "Hot New Listings" as they enter the market?
Simply click on the "200 Rideau Street" photo below and you will be set up for FREE, with no obligation!
Claridge Plaza 1 - 200 Rideau Street, Ottawa.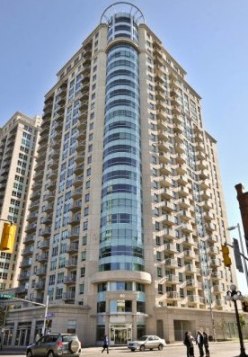 Claridge Plaza One at 200 Rideau Street in Ottawa.
200 Rideau Street, built by Claridge in 2008, is a striking high rise luxury condominium steps away from the Market and virtually next to the Rideau Centre, prime shopping and entertainment areas, is a premium destination in which to enjoy the best that downtown living has to offer.200 Rideau Street condos for sale!
200 Rideau Street offers the luxury of time by allowing you to walk to major work locations, and the luxury of an upscale lifestyle for the modern professional. You will experience true ease of access with grocery stores, cafes, dining and entertainment all within walking distance.
The lobby greets you with an air of modern elegance with cozy and attractive furnishings which open to a spacious foyer with three high speed elevators to serve you promptly.
The friendly 24 hour Concierge and security service offer you peace of mind. The building provides an exceptionally secure environment with guarded entrance and security cameras throughout the building.
Featuring 25 stories of spacious suites, some with spectacular views of Parliament Hill, the Market, the Gatineau hills, Rideau Hall, the Ottawa River, and the Canal, 200 Rideau Street will appeal to a wide range of demographics such as young professionals, executives, and those wishing for a maintenance free lifestyle that complements their mature yet active lives.
Luxury amenities and features include The Plaza Club which boasts the 8000 square feet recreation center, with a bright and resort style indoor pool with access to the garden terrace. Also includes saunas, fitness facilities, a private lounge which can be utilized as an exclusive party room with an adjoining fully landscaped terrace. The garden style terraces total 4500 square feet of outdoor leisure space allowing you to soak up the sun and relax after a busy day at work.
Map of 200 Rideau Street, Ottawa, Ontario, K1N 5Y1

200 Rideau Street, Condominium Corporation # 803.
Condo fee's for 200 Rideau Street include: Heat, Water, Management, Caretaker, Recreation facilities & Building Insurance.

Condo Suite heating source: Natural Gas, Forced Air and Central Air Conditioning.

Facilities include: Party room with full kitchenette and washroom, 24 hour Concierge/Security, lap pool, Saunas, fitness centre and 2 outdoor terraces.

Property Management for 200 Rideau Street is: Reid 613-738-4646