New Condo Developments in Ottawa!
Thinking about purchasing a new condo in Ottawa? Simply click on the "Dream Condo Finder" picture below to learn about new construction builders and where the best condo developments are located in Ottawa. Free condo purchasing services available to you here.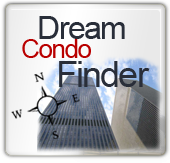 Ottawa's condo scene is a vibrant and rapidly expanding market of prime real estate in the National Capital Region that offers buyers, sellers, and investors an exciting array of options.
In addition to the notable condominium towers currently in the city, including the Metropole, 700 Sussex, and Claridge Plaza Phase 1 located at 200 Rideau Street , some impressive new developments are under construction. Downtown Ottawa is quickly becoming a sophisticated, hip, and desirable place to live.
Our website contains all the latest information about the newest and best condominium projects under construction. We invite you to take your time browsing the links on the right.
But knowing which new condo development to invest in or purchase can seem like a deceptively simple task, with many aspects to consider for the future enjoyment and value of your property. On the other hand, some find the option of financially investing in a condominium concept before actual construction to be too risky and uncertain.
An experienced Realtor can save you hassle and heartbreak by helping you consider important questions like:
· Which floor plans are most functional for living or popular for renting?
· What is the builder's profile, reputation, quality, and history
· Which side of the building is best depending on the neighbourhood, future development plans, and aesthetics?
· What kind of people are most likely to choose to settle in the condominium?
· Should you invest in parking?
Ask the right questions before you buy! Our expertise is your advantage. Contact Us for more information.