Living in Ottawa
Are you planning a move to Ottawa, Ontario?
Would you like to receive "Hot New Listings" for housing options in Ottawa?
Simply click on the photo of "Ottawa" below and you will be set up for FREE, with no obligation!
Ottawa, Ontario, Canada.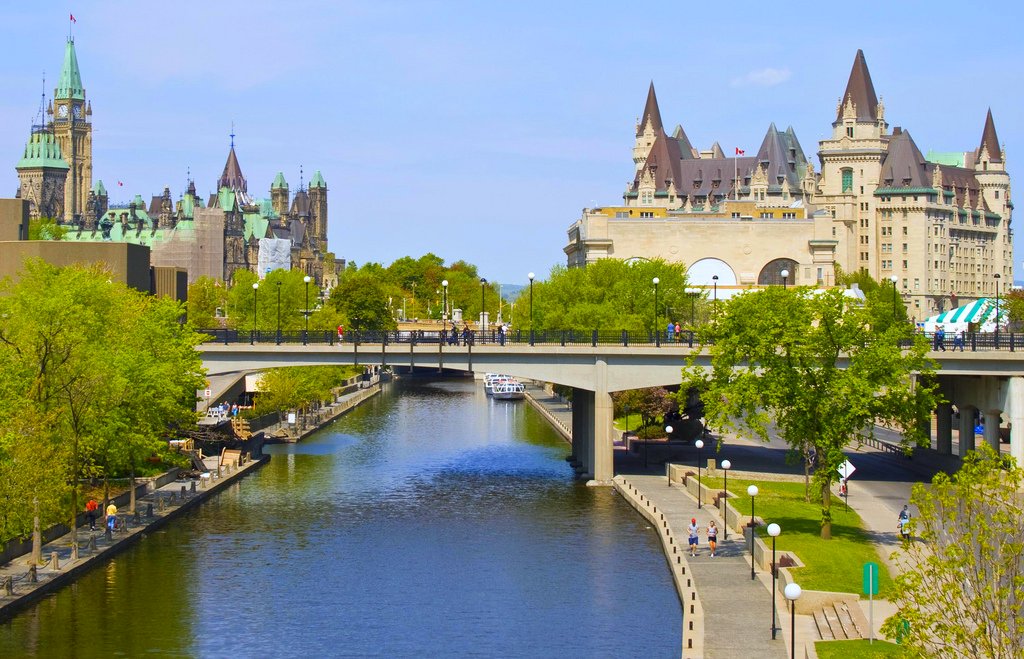 Ottawa Living and the information you need to know.
Ottawa has…
Earned a reputation for being a great place to live: Ottawa was ranked as the #2 best place to live in Canada by MoneySense Magazine. Ottawa earned top marks for high incomes, affordable housing, healthy population growth, easy access to health care, low taxes, efficient transit, good weather, and ample recreation opportunities.
Affordable housing in Ottawa: Ottawa has one of the most affordable housing markets in Canada for cities with close to 1 million people. Take your pick from high rise condos, trendy lofts, townhomes, large single family homes, heritage homes, rural homes with plenty of land, and everything in between. In the second quarter of 2015 alone, 3,449 single detached homes, 1,372 townhomes, and 442 apartments have been sold.
Neighbourhoods in Ottawa with character: Ottawa is made up of many neighbourhoods with their own distinct feel. Be part of the Franco-Ontarian culture of Orléans, or enjoy the sights, sounds, and flavours of Ottawa's Little Italy or Chinatown. The diversity of the neighbourhoods and the people who live there make Ottawa an exciting place to live.
A strong economy: The backbone of Ottawa's economy is the Federal Government, which employs over 110,000 people. For those who prefer a career in the private sector, there are plenty of options to choose from. Ottawa is home to a highly educated workforce, which has helped the economy grow almost 2,000 companies in a variety of sectors, including wireless technology, photonics, defence and security, life sciences, clean technology, digital media, and film and television production.
Lots of ways to get around town: Ottawa's public transit system is strong – and poised to grow. With more than 2.4 million people using the O-Train, and 97,800 people riding the more than 930 busses annually over 144 routes, it's easy to find your way around town. Ottawa has a 100% accessible public transit system that includes single floor busses, double decker busses and dedicated transitways. The Confederation Line of Ottawa's new Light Rail Transit System is set to begin service in 2018, with extensions to the East, West and South by 2023. When complete, over 70% of Ottawa residents will live within 5km of rail transit. If pedal power is more your style, Ottawa boasts over 600km of bike paths throughout the city, as well as the first segregated bike lanes in Ontario.
Four distinct seasons: People in Ottawa love to celebrate the uniqueness of each season with a host of events and activities. The summers are hot and perfect for spending the days outdoors with the kids at a local beach, or for taking a stroll in the ByWard Market and stopping for a drink at an outdoor patio. Fall is a great time to go hiking in the Gatineau hills or to take a daytrip to explore a nearby village. While other cities settle down for winter, Ottawa really comes alive. The Rideau Canal is transformed into the world's longest public skating rink. Every February, more than 600,000 people go to Winterlude, a world-class festival that celebrates all things winter and features ice carving competitions, children's activities, and free concerts. Thousands of kids run onto baseball diamonds and soccer pitches to mark the beginning of spring and participate in Ottawa's many recreational and competitive sports leagues. You can also see 1 million tulips bloom at locations across the city during the Canadian Tulip Festival, the largest festival of its kind in the world.
What you need to know about Ottawa, Ontario:
· Population (2011): 883,391 and growing faster than most other cities in Canada.
· Median Age (2011): 39.2 years, which is slightly lower than the national average.
· Housing Options (2011): 42.9% of private households lived in single-detached houses and 18.5% lived in apartments in buildings that have five or more storeys. The rest lived in other types of homes.
· Average Housing Prices (August 2015): Residence: $379,946 Condo: $244,801.
· Family composition (2011): 55.9% of the total population aged 15 and over were either married (47.4%) or living with a common-law partner (8.5%).
· Residents who speak both English and French: 37%.
· Median Income (before tax) (2013): $93,440, which is higher than Calgary.
· Unemployment Rate: 6.8%, which is below the national average.
· Number of festivals (2015): 65.
· Number of City beaches: 4.
· Number of City sledding hills: 57.
· Average annual hours of sunshine: 2084.
Click on a neighbourhoods in Ottawa on the right side of the screen to discover which neighbourhood is right for you.